In episode 7, anchor Brock Yordy discusses the high number of OSHA and MSHA fatalities in the construction industry this year, and then interviews driller Jake Fletcher.
Fletcher writes The Driller's Leadership Toolbox column. He's a big advocate for both leadership and for bringing younger recruits into the drilling industry.
"I'm the type of person that I look at younger individuals today and I see a lot of potential in them, but not everybody looks at younger generations that way," Fletcher says. "Don't be discouraged when you come across people like that. … It's really a fun industry to be a part of."
This episode covers:
The Rosemont Copper Project in Arizona.
The Killgore Gold Exploration Project near Yellowstone National Park.
The value of precious metals for building everyday technology.
Federal rules of mining discharge.
OSHA, MSHA fatalities in drilling and construction.
Hazards of rotating equipment.
Stop work authority.
Avoiding common jobsite distractions.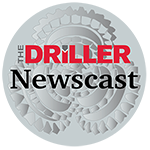 Thanks for joining us. Tune in each Monday morning for the latest video or podcast. Whether you're at your desk or on the way to the jobsite listening in the truck, start your week with us. You can also find our show on Apple Podcasts and Spotify.
Drilling expert Brock Yordy is a regular The Driller contributing writer. Send news tips and interview suggestions to questions@askbrock.com.