In episode 6, anchor Brock Yordy turns to international water disputes (and how they relate to disputes in the U.S.), discusses hearing safety for drillers and interviews Franklin Electric's Greg Parker.
Parker, a regional manager covering the north-central part of the U.S., discusses his sales perspective on the groundwater industry.
"You've got to be flexible," Parker says. "And you've got to be able to provide a service like no other. … Service is never going to go out of style."
This episode covers:
Hearing safety for drillers
The 2021 Infrastructure Law
Rural water investment in the 2021 Infrastructure Law
What the 2021 Infrastructure Law means for drillers
An update on western U.S. droughts
Gov. Gavin Newsome asks California residents to cut consumption
Permitting for groundwater wells in California
Pumps and electric for drillers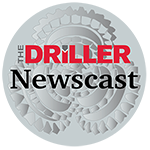 Thanks for joining us. Tune in each Monday morning for the latest video or podcast. Whether you're at your desk or on the way to the jobsite listening in the truck, start your week with us. You can also find our show on Apple Podcasts and Spotify.
Drilling expert Brock Yordy is a regular The Driller contributing writer. Send news tips and interview suggestions to questions@askbrock.com.