Geothermal heat pump (GHP) systems are more efficient than variable refrigerant flow (VRF) systems for heating and cooling, according to research assigned by the Geothermal Exchange Organization (GEO).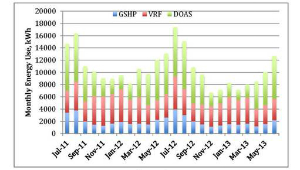 The above figure shows the total monthly energy use by each HVAC system. Source: GEO
"There's no question about it — GHPs trump VRF systems for efficiency and cost savings," says GEO President and CEO Doug Dougherty."Our study of heating and cooling performance at the ASHRAE Building proves that over a two-year period — with all variables accounted for — energy use by the geothermal system averaged 44 percent less than the VRF system."
In January 2013 GEO contracted researchersfrom Oklahoma State University and Oak Ridge National Laboratory to assess the performance of GHP vs. VRF heating and cooling systems at the American Society of Heating Refrigeration and Air-conditioning Engineers (ASHRAE) International Headquarters Building in Atlanta.
The building uses three heating, ventilation and air-conditioning (HVAC) systems: a VRF system for the first floor, a GHP system for the second floor and a dedicated outdoor air system (DOAS) to bring fresh air to both floors.
The GEO research team studied the performanceofthe GHP and VRF systems, determining energyconsumptionofeach. They collected twoyearsofoperational data (July1, 2011to June30,2013).
"Raw data show that the VRF system used twice as much energy as the geothermal system during the two-year study period," says Jeff Spitler, leader of the research team.
Data points included operating mode (off/heat/cool); zone temperature; and discharge air temperature for each fan coil unit (FCU) or heat pump. The researchers gathered data on ground loop watersupply, return temperatures and flow rates for the geothermal system.
Researchers also collected metered energy used. For the GHP system, that included power for all 14 heat pumps,as well as the ground loop water circulation pumps. For the VRFsystem, power is metered and recorded only for the two heat-recovery units and the 22 FCUs connected to them.
"During the two-year study period, theGHP system used 29 percent less energy in the summer and 63 percent less energyin the winter/shoulder seasons than theVRF system, while maintaining similar zone temperatures," Spitler says.
He explains the underlying difference between the geothermal system and the air-source VRFsystem is that ground loop water supply temperatures were more favorable than ambient air temperatures for heat pump operation. As a result, geothermal equipment operates at higher efficiencies.
To learn more about the research, visit www.geoexchange.org.