Lone Star Drills has launched its new Missionary Kit, designed for drill troubleshooting in remote areas.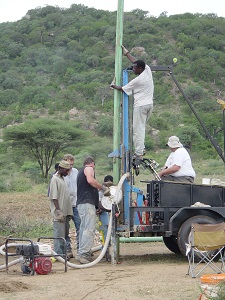 The kit includes the necessities for drilling in remote areas, and the basics for drill maintenance andrepair, so volunteer crews can limit downtime. Source: Lone Star Drills
It helps drillers installing water wells in developing countries recover from breakdowns with speed.
"We created the Missionary Kit based on input from groups that regularly send volunteers to drill and maintain wells," says Joe Haynes, president of Little Beaver, which manufactures Lone Star Drills. "Many of these items would be difficult to make or purchase in Africa, Central America or other developing areas where the missionaries are working to bring clean water to people who desperately need it."
Missionary Kits include a 4-inch casing flush tool, 4-inch casing slips, a 3/8-inch hollow braid rope, hoist bracket bailer tripod assemblies, a PVC bailer, hard hats and a tool box with pipe joint compound, a grease gun, wrenches and miscellaneous nuts and bolts.
Missionary groups are generally limited to a week or two to get water wells drilled. They often work in isolated places, where getting replacement parts or other tools for drill maintenance takes days. The kit keeps tools, replacement parts and supplies on hand so that repairs can be handled quicker and wells can be completed efficiently.
For more information, visit www.lonestardrills.com or www.littlebeaver.com.