Terra Sonic International's played a role in Ovarian Cancer Awareness Month at its Aiken, S.C., regional office in September.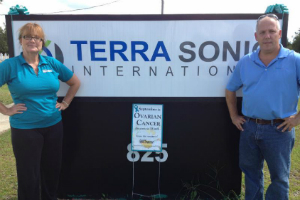 The Aiken office posted teal ribbons both inside and outside its offices in September. Source: Terra Sonic International
The office staff posted teal ribbons inside and outside of the office to help raise awareness of the disease.
"Posting the ribbons was important to us," says Blake Cabit, regional manager.
The efforts were inspired by Aiken organization Gail's Anatomy, which was founded by Debbie Mills, whose daughter, Gail, lost her battle with ovarian cancer after just three months.
"Gail's Anatomy has raised over $22,000 for the American Cancer Society in just six years," Cabit says. "At Terra Sonic, we relish opportunities to make a positive impact on the community, and this was a great opportunity to show support for an important organization in our own backyard."
Terra Sonic International, based in Marietta, Ohio, is a leading maker and servicer of sonic drilling rigs and services. To learn more, visit www.terrasonicinternational.com. For more information about Gail's Anatomy, visit www.ovariancancerawareness4life.org.