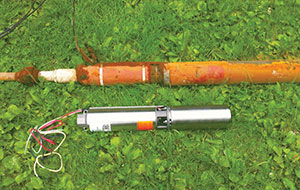 A new Goulds pump, below, has a lot to live up to as it replaces a REDA pump installed in 1957. Source: John F. Allyn
After seeing my article about a REDA pump that I wrote sometime back, a reader sent me the following letter with a photo.
John F. Allyn, the vice president of Louis E. Allyn and Sons Inc. in Connecticut, authorized me to reprint his letter and photo.

Allyn: I thought this would make a good article after reading that you installed a REDA pump in the 1950s. My family's Connecticut-based drilling and installation business started in 1917, drilling for oil in New York State. No oil was encountered; only water.
From what I gather, no money exchanged hands since no oil was found.
The rig and equipment were brought home to Connecticut and successfully hit water in limestone for the family homestead.
Our first pumps were wood rod sucker type. Later the sucker rod type was changed to two pipe jet systems on galvanized pipe with Peerless deep well jet pumps. First submersibles were Sumo pumps, and then REDA pumps were purchased from Bartlesville, Okla., and installed around 1953. These pumps were installed from approximately 1953 to 1973. Currently, all pumps we've installed since 1974 are Goulds.
This REDA pump was installed Oct. 3, 1957. It failed on July 28, 2014. The -horsepower pump, submersible wire, drop pipe and related accessories sold for $469.15. The pump functioned fine for 57 years. It had a -inch brass bleeder, brass check valves, and an 82-gallon galvanized tank and pressure switch. All were working fine until replacing with the Goulds pump in 2014. It is noted that the water in this well was almost perfect. The electrical supply has always been constant and the proper grounding was in place.
A photo is included of the 1957 REDA (the Long pump) beside the new Goulds pump.
 
I appreciate Mr. Allyn sharing this information with us and if others have similar stories please forward them to me. Contractors love to read real stories from other contractors.
Someone once advised me years ago that almost everything today is designed and built with a "designed obsolescence," meaning if things were designed and built to last forever, no one would ever buy a replacement … or at least not for 57 years!
However, there are a few things like automobiles and engines that last longer than they used to. In the '70s an engine would last about 100,000 miles before it needed overhauling, while today's engines last 200,000 to 400,000 miles. Be it the lubricants or the engine's construction, I don't know. Automobile bodies are lighter and thinner metals, but they last longer depending on their construction and paints. Some automobile bodies are submerged in a vat of preservative before painting. The drivetrain parts last longer and require less lubrication. We get more mileage from tires. Many automobiles now have LED lights that will probably outlast the vehicle. So looking at that, perhaps I am wrong about "designed obsolescence." You decide and perhaps some of you readers will send me feedback.
---
For more Porky columns, visit www.thedriller.com/porky.