Elmer D. Tasker, known as "The Man with the Tin Hat," passed away Aug. 13, 2014. He was 94.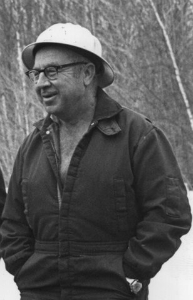 Elmer Tasker took an active interest in his company, even years after he handed it over to sons Dan and Jeff. Source: Tasker family
As head of Northwood, N.H.-based Tasker's Well Company for its first 40 years, some of Tasker's many roles included well driller, mechanic and salesman.
After serving in World War II from 1940-45, Tasker and his brother Murray partnered in the construction industry. Tasker enjoyed the well drilling aspect, so in 1947 he founded the company. The business prospered with its unique company slogan, "We Need Your Business, Our Business is Going in the Hole."
Starting in 1983, Tasker served for 11 years as the well driller member of the NH Water Well Board. He was recognized in 1996 by the New Hampshire Water Well Association for his dedication and devotion to the water well industry.
During retirement Tasker's passion for his 67-year-old company lingered. He called his sons Dan and Jeff, present owners and drillers, every day to ask, "What's cooking?" "How deep did you go?" or "Did you hit it big?" 
Tasker enjoyed politics, watching the news, and being known famously throughout the state of New Hampshire as "The Man with the Tin Hat."
The family requests donations in lieu of flowers to the Advent Christian Church, c/o Treasurer, P.O. Box 115, Northwood, NH 03261; or the Northwood Food Pantry, c/o Gayle Robbins-Monteith, Treasurer, 734 1st NH Turnpike, Northwood, NH 03261.