The Atlas Copco SmartROC T35 and SmartROC T40 are the company's first surface drill rigs with the option to run from the cabin or remote control.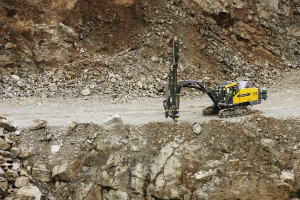 The SmartROC T40, above, and SmartROC T35 are designed to work efficiently in rough terrains. Source: Atlas Copco
By upgrading the rigs with a SmartROC radio remote control kit, drilling crews have safer access to a wider variety of terrain. Both rigs are built with a low center of gravity and high ground clearance, further ensuring they can perform on rough surfaces.
The T35 is designed for hole diameters 2½ to 4½ inches and is fitted with the 27-horsepower COP rock drill. The T40 works for hole diameters 3 to 4½ inches and comes with a 33.5-horsepower COP 2560 rock drill. They can both drill up to 92 feet deep, have a boom reach of 25 feet height for horizontal drilling and 18 feet forward for vertical drilling.
An optional winch does not affect ground clearance since it has been integrated into the design. The support leg on the rigs brings stability while drilling and moving over rough ground.
Two-in-One
The COP rock drills work like two drills in one, thanks to their two stroke settings that offer alternative percussion energy level and impact piston frequency. In addition to energy efficiency, their double dampening system ups the contact of the bit to the drill surface, extending rock tool life and making for straighter holes.
Good on Gas
The T35 and T40 have 225-horsepower Tier-4-compliant engines, which use about half the gas of comparable rigs. They save fuel by eliminating overall energy loss. The operator can adjust flushing air volume and the dust collector fan speed, for example, instead of running them at full power when they don't need to.
The engine and compressor speed adjust themselves based on demand. Three variable hydraulic pumps help slow engine speed while no drilling is taking place.
Easy to Maintain
The drill rigs have half the hoses and 70 percent fewer couplings than others in their class. This cuts down on the chances of leakage and the number of parts to keep up. The machines allow for easy access to components because hydraulic valves and electric modules are placed at the locations they function.
Another Option
In addition to the remote control radios, the Silenced Kit Hole Navigation System (HNS) prevents errors and cuts downtime through its use of GPS to locate the exact location incline of the hole as defined in the drill plan. The HNS capability also reduces the cost per yard produced.
Atlas Copco, based in Stockholm, Sweden, serves segments ranging from compressors and air treatment systems to construction, mining and drilling equipment. The company, founded in 1873, has more than 39,800 employees worldwide, and operates in more than 170 countries. Atlas Copco in North America operates in more than 109 locations and employs more than 4,500 people in the United States. For more information, visit www.atlascopco.us.