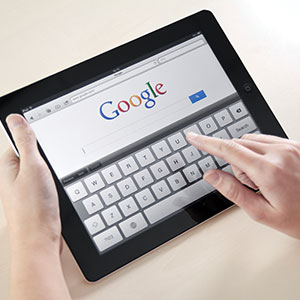 Knowing how to get your business found on the Web can be confusing, but there are services that can help. Source: iStock
Perhaps you've been thinking about getting your business online for some time, but you're busy doing what drilling contractors do. Maybe it hasn't crossed your mind at all, or you're dead set against the idea entirely.
Whether you don't know where to begin or don't see the value, it's time you really start to think about using the Internet to market your business.
Like Ray Leonard, owner of Ray Leonard Well Drilling said: "Everybody's using computers." The 73 year old — a drilling contractor of more than 50 years — recently decided to create a website promoting his Battle Creek, Mich., business.
National Driller talked to his office manager, Cristy Gibson, who has taken on the task of getting the company online. She said if their small business, which employs three, can figure it out, there's nothing to be afraid of.
"I don't know anything about websites," Gibson said. "So I had to find somebody that did." She decided to team up with BizIQ, a firm specializing in small business local Web optimization.
Based on her experience, she shared with us the value of increasing Internet presence as a drilling professional.
Internet Importance
It's all about building business. Everyone else is online, including competitors, so you're missing the marketing boat if you're not.
When people look for drilling services, chances are they're using a search engine like Google. You only have a chance at getting their business if you're on the list, and to get on the list you need a website.
A website can ultimately cut your office workload and increase the time you're able to focus on drilling. For instance, Gibson said she spends a lot of time answering questions from callers who want to know about services offered and pricing. "I wanted to put all of those answers [online] so people could look on the website and answer their own questions before they call us."
Search Engine Strategy
It doesn't stop with creating a website and getting on the Google list.
To stand a fighting chance, it's important to be on the first page of the list and as close to the top as possible. Gibson said she wants to be at the top of the list so people within a 60 mile radius choose them.
Being number one on the list gives people a sense that the business must be the best, she said. "When they go online, that's going to be the first one they look at. And if they go into our website and don't look at the other ones, nine times out of 10 that's the one they're going to pick."

Where to begin
Like anything else, do your research and know how much you want to invest.
With the multitude of drilling contractor websites already up and running, take advantage. Seeing what's out there will give you ideas about what to put on the page and how to organize it. Gibson said it's crucial to have the information well organized if you end up hiring an outside party like she did.
Who Does It
If you or someone else in your business is Web savvy, do it yourself. It can save money.
If making a Web page isn't your thing, no worries. Plenty of skilled companies exist for this purpose exactly.
Gibson used the Internet and asked around before finding BizIQ. She wanted a group that could get Ray Leonard's company to the top of the search list in addition to making the website. She also admired the online work they did for other companies.
If you're still not sure about the choice you're making, think about what kinds of contracts they offer. "I have a contract, but it's month-to-month. There are a lot of places you have a year's contract," she said. "If I don't see our business increasing I can cancel it."
Adding Content
Think of your page as a comprehensive commercial. Add what you want people to know and what sets you apart.
Leonard's company has put a lot of what's in their mailed brochure on the website, including services and costs.
Gibson said a big thing she wants the website to note is that government funding is available for those who can't afford what they offer. "There's so much that I know, or Ray, that people don't know about helping them get a well."
Getting the content onto the Web is as simple as emailing the information and pictures to her BizIQ rep and letting him take it from there.
Social Media
It doesn't and shouldn't stop with a website.
BizIQ has created a Facebook page and YouTube account to further promote the business.
For Ray Leonard's company, the Facebook page is meant to serve as a forum for reviews. They often receive mailed thank you letters from happy customers and hope such feedback will carry onto Facebook, where others can see the positive comments.  
Gibson also expects Facebook to increase the company's popularity. She said people will likely find the business increasingly credible as its "likes" increase, drawing in new customers.
As for YouTube, it's an effective way to explain what they do. Gibson said the company prefers cable tool over rotary. Through videos, their YouTube page shows potential customers how cable tool actually works.
Social media presence doesn't have to end with Facebook and YouTube. Don't be afraid to create accounts on Twitter, Google+ and the multitude of other options. Just make sure that your website links to those social media profiles and that those social media profiles link to your website. This will help people see all of the information you've made available.
Monitoring Effectiveness
After investing a good deal of time, money and energy into such a comprehensive project, you'll probably want to know how it's doing.
BizIQ created an account for Gibson that lets her to see how many people have visited pages and what they've clicked on. Keeping up with these numbers is important if you want to continue to increase traffic. For example, if you add a fun fact to your Facebook page and realize the page visits skyrocket, you might consider making fun facts a habit.
What increased Web presence boils down to is promoting your business to bring in customers. It's just online, the new way of doing things.
Ray Leonard's project is still in the works, but Gibson said she expects good things to come as a result and that doing what they're doing should be a no brainer. "Everything is online now. That's where you want to be, is online."