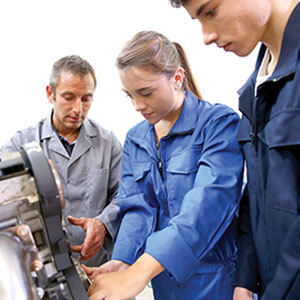 Trade schools, and engineering and geology departments at universities are great places to find young people potentially interested in a career in drilling. Source: iStock
The future seems to be improving for the drilling industry. Long term droughts in the West and Texas have left many drillers in those areas with lengthy backlogs. Aquifer storage and recovery (ASR) projects are becoming more common and utilize drilling services during the investigatory and development phases. Construction starts are improving in some areas of the country and that bodes well for geotechnical drillers. Although backlogs may be increasing for some drilling contractors, how do we as an industry help our future by getting young people interested in the water well drilling business?
As I travel to different states attending technical conferences and taking training classes to maintain my driller's licenses, I have noticed that the average age of the people in the classroom seems mighty high. There are some attendees that are younger generations of family-owned businesses, but it seems that outside of families there are not many young faces in the room. We need a way to get youth into our industry.
One way to increase participation from the younger generation is to get them involved in your local drilling organization. Take a high school student to a drilling or groundwater association meeting so they see how the industry works. Work with your local drilling group and set up a field trip to show youngsters how a well is drilled and explain to them where their water comes from. Many organizations have scholarships that provide funds to assist students in their studies. If your local drilling/groundwater group does not have a scholarship fund, look into that option; it is a great way to get students involved in the industry.
Another option is the local Boy Scout and Girl Scout organizations. Take a couple of hours and meet with those groups. Give them a presentation on the importance of fresh water and how you as a contractor are integral in the process. Use simple visual aids showing the hydrological cycle and where drillers fit in the development and delivery of the water they drink. The Boy Scouts have merit badges for the following activities, all of which could benefit from information provided by a drilling contractor:
Engineering
Geology
Environmental science
Soil and water conservation
Other places to identify potential employees are the earth sciences and engineering departments at your local college. Meet with the department heads or professors and offer to provide a one hour seminar on the drilling industry. Engage the geology club, the student chapter of the Association of Environmental and Engineering Geologists (AEG) or the Society for Mining, Metallurgy and Exploration (SME). Better yet, if you are active in these organizations take a student to a meeting with you. Do a quick Internet search of "student geologic society" groups in your area; you may be surprised at the number of local groups. I know many geologists and engineers who started working in the field as helpers and drillers that have progressed to managers and owners of drilling contractors.
As you think about places to contact and meet with potential younger employees, don't forget about high school shop classes or trade schools. Drilling and support equipment are becoming more complex and sophisticated, and are requiring high-tech maintenance and service. Our old ways of "duct tape and bailing wire" are gone and we need new employees who can operate and provide mechanic services on this state of the art equipment.
Finally, when you hire a new, young employee, don't just give him a hard hat and say "get to work." Develop a buddy system to pair him with a safe, experienced worker until he "knows the ropes." Better yet, start a formal apprentice program with well-defined goals and milestones so the new employee has a defined path to success. The water well drilling industry is a great place for a long-term career, but it is up to us to get the younger generation started in the profession.