Julie Scheck Freigang has joined Franklin Electric as chief information officer to manage all aspects of the company's information technology infrastructure, processes and projects.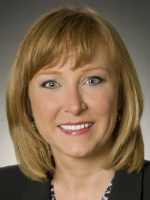 Freigang
Freigang has demonstrated her technology and business leadership over the past 20 years. From 1992 to 1996 she was vice president of information technologies at Eaton, where she helped the company achieve their goal of helping customers effectively manage electrical, hydraulic and mechanical power more efficiently, safely, and sustainably. After leaving Eaton in 1996 to found a small software company, she returned to Eaton in 2002 as manager of application development for the truck group's IT function. After working in various capacities in quality and operational excellence from 2007 to 2010, she returned to IT as vice president — IT operational excellence and site infrastructure support before accepting her new role at Franklin Electric.
Freigang graduated from Valparaiso University with a bachelor of science in mechanical engineering.
Franklin Electric offers an array of systems and components for moving water and automotive fuels. It serves residential, commercial, agricultural, industrial and municipal customers around the world. For more information, visit www.franklin-electric.com.