The National Ground Water Research and Educational Foundation announced that Ronald Peterson will present "Drilling Fluids: A Common Sense Approach" for the 2015 McEllhiney Distinguished Lecture in Water Well Technology.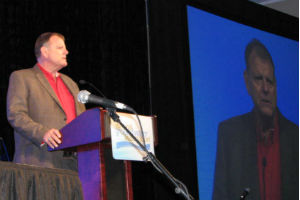 Ronald Peterson has worked for Baroid IDP since 1977. Source: Jeremy Verdusco
Peterson, of South Jordan, Utah, is the Baroid Industrial Drilling Products senior account executive. He has been in the drilling industry for more than 36 years. Since he was hired in 1977, Peterson has worked in various positions for Baroid.
Drawing on his experience, Peterson will lecture on the importance of using the proper drilling fluid for a particular drilling project. His lecture will cover the following topics:
Evolution of the water well industry;
Importance of proper project planning and follow-through;
Functions of a drilling fluid;
Uses of bentonite, focusing on its use as a basis for drilling fluids;
Development of other drilling fluid additives and their uses to enhance the fluid properties;
Proper selection of a grout; and
Development of grouts, and the issues and limitations in placement and in attaining a competent well seal.
The schedule for the lectures, which are funded by Franklin Electric, has not been finalized. Sites interested in hosting a McEllhiney lecture should request a form from rgeddes@ngwa.org. For more information, click here.
NGWA is a nonprofit that supports responsible development, management and use of water resources. It's comprised of groundwater professionals ranging from contractors to equipment manufacturers to scientists and engineers. For more information, visit www.ngwa.org.