Bauer Foundation Corp. began a new phase of a complex remediation project at Center Hill Dam in Tennessee.
Construction work on a foundation barrier wall began this spring, after an expansion of the dam's crest to allow for heavy equipment, as well as the building of an encasement wall made up of 10-foot by 6-foot overlapping-rectangular columns within the earthen dam. Bauer will build the barrier wall through the encasement wall and up to 300 feet below the top of the dam, socketed into rock about 100 to 160 feet. The finished barrier wall will be more than 900 feet long.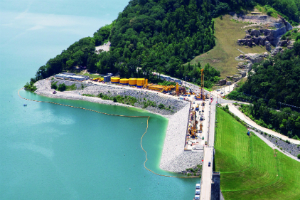 Bauer called the Center Hill Dam project "extremely demanding." Source: Bauer Foundation
"Beginning in March the barrier wall will be built through the encasement wall up to 300 feet below the top of the dam through the karst rock ending in the solid rock layers," Center Hill project manager Linda Adcock told the U.S. Army Corp of Engineers news service. Bauer is working with the USACE on the $108 million project, the biggest single order ever for a Bauer Group company.
Center Hill Dam was built in 1948 on the Caney Fork River in Lancaster, Tenn. In 2007, the USACE decided the dam had a high risk for failure. Bauer was eventually brought in to help the corps fix it. The dam holds back the 18,000-acre Center Hill Lake and also produces electricity.
In a release, Bauer called the project "extremely demanding." Their cutters can only deviate less than 10 inches over a depth of more than 300 feet. Bauer deployed equipment at the top end of the company's performance capacity, with parts modified or built specifically for this project. Working onsite are a BC 50 trench cutter on an MC 128 heavy cycle crane, a diaphragm wall grab on an MC 96, and a rotary drilling rig on a BG 50 with a 300-foot Kelly. For the first time, Bauer is using a new method of cut-off wall construction using a Wassara water hammer on a Klemm KR 806 drilling rig.
The company has 220 employees working three shifts and expects to finish work in spring 2015.
Bauer Group offers services, equipment and other products for a variety of foundation drilling and civil engineering sectors. Founded in 1790, the company now employs more than 10,000 people worldwide. For more information, visit www.bauer.de/en.