I can't tell my readers anything about geothermal heating and cooling. Those who work in that segment of drilling and contracting know how to get installations done. They know geothermal works off the Earth's constant, natural temperature. They know their systems have a long lifespan. They know ground source heat pumps win on efficiency.
Yet, they also know geothermal is underutilitzed. I bet it's frustrating. The better argument doesn't always win the day. It sometimes needs a little help.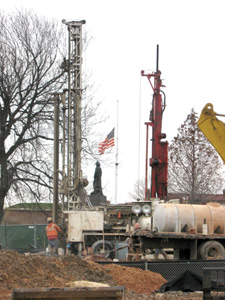 Architect Eric Corey Freed says geothermal contractors need to stop apologizing "because we have the better system." Source: National Park Service
I look at a broad spectrum of the industry and, of all the sectors I cover, geothermal has the most passion. When I speak with geothermal people, their confidence in the technology runs deeper than a vertical loop. Groups like the International Ground Source Heat Pump Association and GeoExchange bring together professionals. They push the message through media. They collect information and case studies. They train contractors. So, what's the problem?
The better argument doesn't automatically win.
What IGSHPA and GeoExchange do is great. But individual contractors play a critical role in creating more market share for ground source heat pumps. A report submitted to Congress by GeoExchange earlier this year says geothermal heat pumps "claim less than 2 percent of the heating, ventilation and air conditioning (HVAC) industry marketplace."
How do contractors do their part to support the better argument?
Architect Eric Corey Freed shares his advice for contractors in my interview with him (page 22). IGSHPA invited Freed to deliver the keynote at this month's Technical Conference and Expo held Oct. 9-10 in Las Vegas. His firm, organicARCHITECT, specializes in green designs and makes regular use of geothermal heating and cooling. In fact, Freed says every project he does is evaluated for geothermal (as well as solar).
Freed urges contractors to share their successes.
"Take the last five projects that you did, ones you're happy with, and create a project sheet," Freed says. "Send this out to local architects and builders. Include a photograph, details of the project and other pertinent facts." He also suggests informal, informational lunches where geothermal installers can promote their trade.
You know the Energy Department says geothermal systems pay for themselves with energy savings in five to 10 years. You know they use 25 to 50 percent less electricity than conventional heating and cooling systems. You know about 2 million geothermal systems work to heat and cool residential and commercial buildings across the United States, and contractors install 50,000 geothermal heat pumps in this country each year. You know GSHPs cut consumption and emissions up to up to 44 percent over air-source heat pumps.
These facts are common knowledge for you, the geothermal contractor. But, what about your local developer?
Networking with builders and developers who don't already use geothermal educates them, and puts your name and number on their mobile phones should they decide to give the technology a try.
What are you waiting for?
One more tip from Freed before you pick up the phone and start calling local builders: "Remember, stop being apologetic about what we're doing, because we have the better system on our side."
Read my interview with Freed. I think you'll find plenty of good advice and perspective. Find the other half of the interview, which published late last month in our eNewsletter, on our website. Click "geothermal" on our homepage. Don't forget to check out Freed's keynote and, if you're at IGSHPA, tap me on the shoulder and say, "hi."
 Stay safe out there, drillers.