Bauer Spezialtiefbau GmbH, as part of a joint venture, recently secured the Bauer Group's biggest contract to date in Germany.
"This is a great contract for us in our home market," said Thomas Bauer, chairman of the Management Board of Bauer AG. "And it is indeed our biggest contract in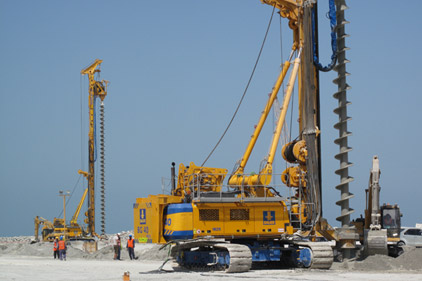 The project near Frankfurt will include work by Bauer BG 40s like the one shown here. Source: Bauer
Germany to date. After having recently completed work on the large-scale Luise-Kiesselbach-Platz project in Munich, we have now once again secured a healthy utilization of our capacities in Germany for the medium term."
The project involves foundation engineering on tunnels and supports for a double-track bypass rail line linking Hanau and Natenbach in central Germany, just east of Frankfurt. Bauer's part of the contract is valued at $62.8 million (47 million euro).
The rail line completed line, which will be 4.3 miles, is expected to reduce noise pollution for nearby residents. It replaces an existing route through Schwarzkopf tunnel, which cannot be updated for technical reasons. Work will also include new and renovated stations along the route.
Bauer will work on two sections, including more than 570,000 square feet of pile wall and about five miles of anchors for four new tunnels. Bauer expects to work up to 10 rigs simultaneously, including several Bauer BG 28 and BG 40 rotary drilling rigs along with anchor drilling rigs, at peak times. Work will begin by the end of 2013, and finish in about four years.
 Bauer Spezialtiefbau is Bauer Group's construction arm. It specializes in bored pilings, diaphram walls, soil mixing and nailing, and other types of foundations work and ground improvements. For more information, visit www.bauer.de/en