Lots of National Driller readers have rigs they can play with out on the jobsite. But how many have one to sit handsomely on the bookshelf in the office?
Enter Wooden Classic Wheels. Owner William Jackson produces one-of-a-kind vehicles from quality hardwoods, custom replicas of everything from classic cars to,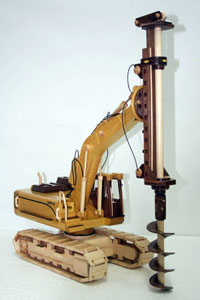 This hardwood drill rig is just one example of the work available at Wooden Classic Wheels. Source: Wooden Classic Wheels
yes, drill rigs.
Jackson says he can work on commission to do company vehicles or your favorite rig, and can even laser engrave logos. He can work off plans, design it himself or work off a photo. He's been featured on Chicago's ABC 7 News, and won first place in the Sears National Craftsman Tool Contest for a 1967 VW he designed and built.
He suggests his work as a retirement or anniversary gift for a special employee or manager, or for a family keepsake.
 For more information, visit www.woodenclassicwheels.com or call 219-252-3541.