When parking a car on the street, one of an owner's top concerns usually involves getting a smashed window and a mobile phone stolen. No one worries the street under their car will crumble and the car will pitch end over end down an embankment. But, that's just what happened in Baltimore's Charles Village neighborhood.
The landslide in late April claimed eight cars and spurred the evacuation of 19 homes in the historic neighborhood. You can see video of the landslide here.
Fast-forward to this month, and foundation support and rehab company Hayward Baker has done work to build an emergency earth retention system to shore up the street above and protect the train tracks below.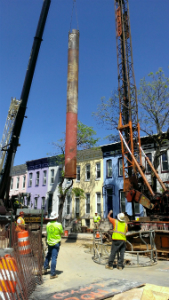 Construction happened close to East 26th Street residences, making the pace of the project critical. Source: Hayward Baker
Hayward Baker Vice President Joseph Cavey, PE, talks about the company's involvement.
"Despite encountering difficult soil and rock conditions, we were able to complete the soldier piles ahead of schedule thanks to the team effort between The City of Baltimore, Concrete General Inc., Whitman Requardt and Hayward Baker crews," he said. "The team worked several very long days and weekends to install the 65 soldier piles quickly, allowing the city residents to return to their homes safely."
Concrete General, under an emergency contract put out by the City of Baltimore, subcontracted Hayward Baker to build a soldier pile and lagging system. HB sister company McKinney Drilling was brought in to speed up installation of the soldier piles. Soldier pile installation for the temporary wall was finished in June. Caved soils are being removed and tiebacks installed to offer additional lateral support. Concrete General is expected to finish anchor installation in August, then begin work on a permanent retention wall.
Back in April, the local CBS affiliate quoted Mayor Stephanie Rawlings-Blake at the scene of the landslide:
"What I do know is we've had to deal with sinkholes, large sinkholes, before," she said. "We have a great team of people who are going to put all of the resources necessary to deal with this as efficiently as possible, focus on safety."
It's nice to see Hayward Baker, McKinney Drilling and Concrete General are part of that team. National Driller applauds those who worked hard on this project — in some cases seven days per week. I'm sure the residents of East 26th Street appreciate it.
Stay safe out there, drillers.