Satisfaction. That's what hit my desk earlier this week. It was the first redesigned issue of National Driller. I wrote recently about the upcoming redesign, but now it's in readers' hands.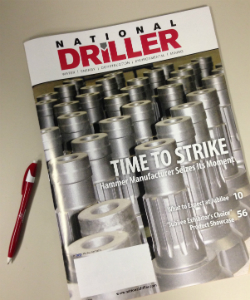 National Driller
has a new look but the same great stories. Source: Jeremy Verdusco
It has a different look. It has shiny, glossy paper. One of my contributors already emailed me about it: "I love the clean/updated look of the logo and the glossy paper!" It's gratifying to see long-term goals become tangible. You develop a plan. You take all the steps necessary to achieve it. You have a great support team full of ideas for getting the job done. But it's not quite real until you see the finished product yourself.
This makes stories, pictures, ads and products all look better. It's the latest in a list of changes we're making at National Driller to serve you, the reader, better. I hope you like it. I know I do.
Along with the print redesign, we'll have updated looks to our two eNewsletters later this month, too, so look forward to those in your inbox. If you don't already get either our monthly National Driller eNewsletter or our Foundations Report, what are you waiting for? Click through to sign up.
In other news, we posted photos from Geoprobe's recent open house on our galleries page. They company unveiled a two new rigs, one for direct-push/augering and a sonic model.
Here's wishing readers a restful holiday weekend. Hard work, of course, is always waiting. But this weekend, make it wait. Our priorities this weekend should be family, barbecue and fireworks (in no particular order).
As usual, stay safe out there drillers.