On this episode, anchor Brock Yordy brings on fellow The Driller writer Jake Fletcher. The pair start with a safety segment offering tips on avoiding heat stress in construction work (and everywhere else). Then, they discuss the tension between responsible groundwater use and the free market.
"Because we are the people who go out and bring this resource out of the ground, we have the power to stand up and have a big say: 'That's not right; we're not going to support you guys doing this to a resource,' " Fletcher says. He adds: "We need to be responsible. We need to understand what the impacts are before we sign on and support those things."
This episode covers:
Preventing heat stress injuries for drillers, construction professionals
Tips for tracking extreme weather
Waters of the U.S. (WOTUS)
Droughts in the Western U.S.
Buying and selling water rights in the Western U.S.
▶ Listen now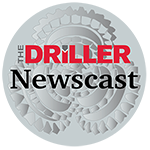 Click the right-hand menu for download options
Thanks for joining us. Tune in each Monday morning for the latest video or podcast. Whether you're at your desk or on the way to the jobsite listening in the truck, start your week with us. You can also find our show on Apple Podcasts and Spotify.
Drilling expert Brock Yordy is a regular The Driller contributing writer. Send news tips and interview suggestions to questions@askbrock.com.