On this episode, we start with Terry Morse, CEO of NGWA, who gives us an update on the group's training initiatives. Then, host Brock Yordy talks to Nocona Williams of Venture Drilling Supply about the challenges (and opportunities) she sees trying to solve equipment issues for driller clients.
"I'm not afraid to email the CEO of a company requesting a part that maybe they haven't made in 10 years, asking them for the designs so that we can take it somewhere else," Williams says. "You never know what they're going to say unless you ask. That's how you have to be if you do want to solve problems. You just have to go for it."
This episode covers:
The risks of using the wrong tool for a job
Mitigating risk through proper tool use
Contractor education and training in the 21st century
Making people aware of trades opportunities
Expanding awareness of geothermal
Retrofitting existing buildings for geothermal
The challenges and opportunities of serving the drilling industry
Solidarity for women in trades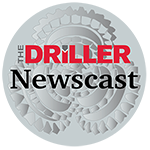 Click the right-hand menu for download options
Thanks for joining us. Tune in each Monday morning for the latest video or podcast. Whether you're at your desk or on the way to the jobsite listening in the truck, start your week with us. You can also find our show on Apple Podcasts and Spotify.
Drilling expert Brock Yordy is a regular The Driller contributing writer. Send news tips and interview suggestions to questions@askbrock.com.