In this episode, water law expert Jesse Richardson returns to explain the Dec. 30 announcement by the Environmental Protection Agency and U.S. Army of a finalized definition of "waters of the United States" (WOTUS). Richardson and anchor Brock Yordy dive deep into WOTUS and what changes to it might mean for groundwater professionals.
"The only thing we can say with any certainty about this new rule is that it raises a lot of uncertainty," Richardson says. He and anchor Brock Yordy try to sort out some of the concerns and unanswered questions for those in the groundwater industry — and what comes next.
This episode covers:
Waters of the United States (WOTUS)
The Sackett vs. EPA case before the Supreme Court
The EPA and Army's recently finalize definition of WOTUS and what it could mean for the industry
How a ruling in the Sackett case at the Supreme Court could still affect WOTUS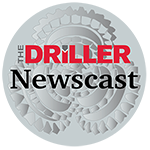 Click the right-hand menu for download options
Thanks for joining us. Tune in each Monday morning for the latest video or podcast. Whether you're at your desk or on the way to the jobsite listening in the truck, start your week with us. You can also find our show on Apple Podcasts and Spotify.
Drilling expert Brock Yordy is a regular The Driller contributing writer. Send news tips and interview suggestions to questions@askbrock.com.