In this episode we reconnect with Margaret Martens, executive director of the Water Systems Council, to talk about the group's latest State of the Water Well Industry report. Those in the industry can make their voices heard by going to www.watersystemscouncil.org and clicking Take the Survey by Jan. 15, 2023.
"A large number of the participants have been well contractors," Martens says, "which is wonderful. That's what, really, our manufacturers and distributors like to see."
This episode covers:
Basic inspections for everyday tools, equipment and components
Waters of the United States (WOTUS) and the Clean Water Act
The Sackett vs. EPA case before the Supreme Court
PFAS and other "forever" chemicals
The Water Systems Council's 2023 State of the Water Well Industry report
New technology on drilling jobs
The greying of the drilling industry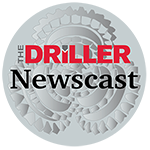 Click the right-hand menu for download options
Thanks for joining us. Tune in each Monday morning for the latest video or podcast. Whether you're at your desk or on the way to the jobsite listening in the truck, start your week with us. You can also find our show on Apple Podcasts and Spotify.
Drilling expert Brock Yordy is a regular The Driller contributing writer. Send news tips and interview suggestions to questions@askbrock.com.