On today's episode, anchor Brock Yordy has news from the EPA, DOE and NSF, plus tips for dressing for those sub-freezing jobsites. It's episode 38.
This episode covers:
Cold weather safety for drillers, construction professionals
The risks of frostbite and hypothermia
Tips for dressing for a sub-freezing jobsite
PFAS and other emerging contaminants
EPA research into PFAS and other "forever chemicals"
Department of Energy/National Science Foundation geothermal internships
The importance of diversification for drilling businesses
Opportunities in geothermal energy and HVAC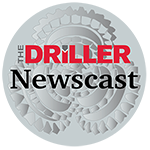 Click the right-hand menu for download options
Thanks for joining us. Tune in each Monday morning for the latest video or podcast. Whether you're at your desk or on the way to the jobsite listening in the truck, start your week with us. You can also find our show on Apple Podcasts and Spotify.
Drilling expert Brock Yordy is a regular The Driller contributing writer. Send news tips and interview suggestions to questions@askbrock.com.