In this episode, anchor Brock Yordy interviews Marcus Laibe of Laibe Corp./Versa-Drill and Greg Halliday of Eijkelkamp North America about the technology coming to bear now in the drilling industry. It's Driller Newscast episode 28.
"The days of the sore back and the broken hands or the hand injuries are coming to an end," Halliday says. "People who are getting into it now, getting their education now, are coming into a completely different world."
This episode covers:
Suicide awareness and prevention
The importance of mental health
Water sharing between India and Bangladesh
The U.N.'s Integrated Monitoring Initiative for SDG 6 and why it's important
Transitioning from cable tool to sonic drilling, other new drilling technologies
Tool handling
The latest drilling technologies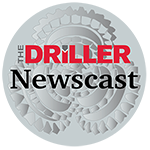 Click the right-hand menu for download options
Thanks for joining us. Tune in each Monday morning for the latest video or podcast. Whether you're at your desk or on the way to the jobsite listening in the truck, start your week with us. You can also find our show on Apple Podcasts and Spotify.
Drilling expert Brock Yordy is a regular The Driller contributing writer. Send news tips and interview suggestions to questions@askbrock.com.
This episode of The Driller Newscast is brought to you by Wyo-Ben, Inc.