The MV800 is a low-cost, compact and durable vacuum excavator designed specifically for cleanup on horizontal directional drilling (HDD) jobsites.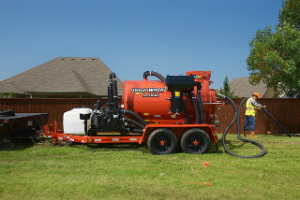 A commercial-grade, 31-horsepower gas engine powers the MV800 and features an electric start and a high-capacity, remote air-intake filter. Its filtration system includes an integrated carryover chamber that eliminates contaminants before they reach the blower.
The MV800 comes with an 800-gallon spoils tank ideally sized for HDD drilling fluid cleanup. Optional features include reverse flow, a hydraulic opening door, and an optional water system with a 100-gallon water tank and adjustable pressure up to 3,000-psi for soft excavation tasks such as potholing utilities. www.ditchwitch.com.