In my last column I wrote that, on occasion, painted steel bladder tanks will rust from the outside in. In what might be a coincidence, I had an occasion to change one of these just a few days after I wrote that column. This also might be called the typical pump man's service call and many of those are untimely.
In mid-September, my wife Shirley and I spent a typical Sunday out for dinner after relaxing and watching the football report shows. It was a beautiful evening and I fired up my John Deere Model 445 - 22 horsepower lawn tractor. I was enjoying cutting the grass at a normal clip when Shirley came out of the house and made a beeline for me. Now this usually is not a good thing, and it wasn't. She said that a customer only a few miles away had problems with water pressure and wanted me to come over. I shut down the tractor and called the fellow who does not have a really good knowledge of his system and, for that matter, does not need to.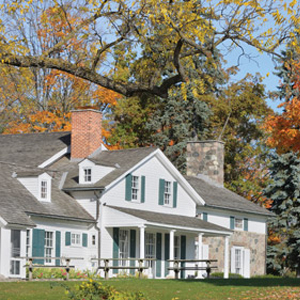 Columnist John Schmitt recently responded to a service call at a farmhouse with a Michigan basement, which isn't the most pleasant place to replace a corroded bladder tank.
Source: iStock
He lives on a small acreage that was part of a larger farm, the majority of which he has sold off. He lives in an older farm house that has been remodeled inside and out upstairs, and is frankly a mini disaster in the very small basement. On the phone, I asked him what his problem was and he said he had very poor water pressure, although he did have water especially at the tank for his horses. He keeps the horses as a hobby. I believe they are the draft or pulling type, and he takes them to assorted shows and fairs. He said he had recently been at the Indiana State Fair with the animals. I told him I would be over, put my tractor away and headed out in my service pickup.
When I arrived at his place, we went to the basement where the pressure tank is located. He has a 5-inch steel cased well with a submersible pump. I did not drill the well. I did install the current pump quite a few years ago and this is not the best 5-inch well that I have seen by a long shot, at least not from a capacity standpoint.
I ran enough water from the tank drain to start the pump and it was pretty obvious that his bladder tank had failed internally. It was clear that the outside had suffered extreme corrosion to the point that the part that holds the tank up, the base, was completely rotted out in part.
I told him that, at the very least, he needed a new tank and, perhaps, more upgrades or replacements but that we needed to start with the tank. I said that I could do that the next day, He was pleased to hear it and asked if I could use some help. Now this man has a job off the farm — in fact I believe two jobs, one of which is part time. I told him that surely I could use some help. My comment was based on the fact that his house has a so-called Michigan basement. This includes a dirt floor — and I mean dirt, not gravel — no floor drain, one itty bitty light bulb, and an extremely steep and narrow railing-less stairway. I did get back to his place the next morning and we changed out the tank.
Over the last many years I have installed most of the tanks that I have sold with a union right at the tank outlet. Some of the newer tanks have an O-ring connection with a locking bar that serves the same purpose. In any event, my customer's tank had the union at the outlet and I was quickly able to break it lose, unthread the pipe under the tank, thread it up to the new tank, reconnect the union and finish in about a half hour. The fact that the union was brass and the pipe copper did not hurt.
We fired up his pump and it ran in a much more efficient manner connected to a good tank. He checked his pressure and said it was much improved. He said he was happy. As I loaded my tools back onto my truck, he came out with his checkbook and paid me in full with no complaints. He has not always been quick on payment. I will say he had the decency to thank me for coming over on a Sunday evening as he handed me the check. Knowing what the answer would be, I asked him if this problem had occurred the day before. He said no, the system hadn't been running right since April but he really did not get around to calling me until the night before. When I got back to my shop I told Shirley, "You really don't need many customers like him, although he is basically a good guy and a hard worker."
In my last column, I said I would write about something that a bladder tank will not do in this column. I don't really have enough word space left so, I will have to write about that next time. What I believe the bladder tank will not do is make up for a weak well or a slow pump.
As I write near the end of October, we have had a lot of rain and our lawns are still very green, so I will have to use the John Deere at least once and, perhaps, twice before the mowing season ends. The weather has been in the 60s and very damp and humid. Shirley and I went to an outdoor drill cuttings identification seminar or workshop held in northern Michigan in mid-September. We had a fine time, saw a lot of old friends, learned some things and enjoyed some overall very nice weather. Richard L., if you are reading this, thanks for a well planned and carried out event. I felt it was very worthwhile. To all my readers, keep working safely, enjoy the fall weather and the color change that comes with it, and hope some customer does not call you at 6 p.m. on a Sunday night unless she or he is really OOW, or out of water. 
---
For more John Schmitt columns, visit www.thedriller.com/schmitt.