I would like to dedicate this column to three individuals who I mention by first name only, as well as to their families. These three men, each in their own way, touched me at a different point in my career as a well driller. All three sacrificed time and hard work and ultimately their lives in their chosen professions.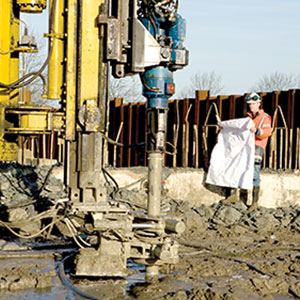 Safety should be both reflexive and something drillers consciously think about on the jobsite every day. Source: iStock
They were all successful in their respective fields and none of them were unsafe in their work habits. It is a somber thought that I was privileged to know three fine men, all of whom were felled by work related injuries.
My father-in-law, Buck, passed from mesothelioma, a death sentence of the industrial era brought on by exposure to asbestos fibers. A Navy veteran and electrical contractor, his exposure to asbestos occurred in the holds of ships and in basements of residences and commercial buildings through work with heaters and boilers, as well as from dust from siding and other sources. This disease, which is almost 100 percent work related, takes years to manifest itself and is normally a death sentence within a year of diagnosis. My fishing instructor and friend was taken way to soon. The only positive note is that, with the realization of the cause of it, this disease should be nearly eliminated in the next generation.
The second workplace fatality was relayed to me by a residential customer who worked as an engineer at a refinery in the Philadelphia area. A coworker of his, Fred, was known to all, which in a refinery of its size is saying something big. Fred was a big man and had been the epitome of the rugged oilfield worker with his tin hard hat and get-her-done manner. Fred was a man's man and when he spoke men jumped. When I mentioned Fred, the look that crossed my customer's face was not good. Fred had passed away at a refinery in Texas from an H2SO4 accident.
Fred had helped us out numerous times when we were drilling test wells at his refinery and we had two occasions where we could return that favor. It is sad to think of Fred taken down by a cloud of poisonous gas. I always remember the lab safety ditty "Billy was a chemist now Billy is no more, what Billy thought was H2O was actually H2SO4."
The third individual was one of the most cheerful, helpful drillers in the state of Pennsylvania. Floyd, who overcame the adversity of losing part of a limb on a cable tool machine, was struck and killed by a drill rod when the safety hook separated from the lifting plug as he was assisting a driller in racking rods in a rod trough. I will never forget Floyd's cheerful voice, with his Lancaster County Dutch accent, at the Jubilee or another convention, booming out, "Hey, Dougie how are ya doing?"
I need to pause again to once more note the importance of these men in the lives of their families, for without a doubt they were good providers and dedicated, salt of the earth individuals. Words cannot convey the heaviness of my heart as I think of the fond memories associated with each of them. Sadness runs through me and also pride in having been able to share a bit of the rugged individualism that each possessed.
H&S (health and safety) professionals would all agree that these were needless losses. To put it in perspective, construction related fatalities occur approximately every 45 minutes. Police officer fatalities, every 57 hours. The goal now is 100 percent safety. Zero tolerance of accidents, death and even near misses. The BP Horizon oil spill and the Chilean mine disaster, both accidents that touched the drilling industry, directly illustrate the dangers associated with our everyday work lives.
It is very easy to become safety complacent. It is very easy to take short cuts. It is very easy for numerous small decisions to snowball into a storm of an unintended catastrophe. Take a deep breath and a pause and imagine having to look the family of a coworker face to face after a tragedy. Imagine how your spouse, kids, coworkers, friends or even your dog might feel upon realizing that you won't be returning home. If this grim image makes you think for a moment, good. If it makes you think every day, great! Safety should be reflexive and is, to a point. But in the daily world of drilling, with its myriad variables and moving parts, it must also be a conscious, thinking awareness of the hazards that you and your coworkers face.
---
Doug Walker, MGWC, is known as "The Happy Well Driller." His business, M&R Soil Investigations Inc., is based in New Jersey. Contact him at happywelldriller@gmail.com.