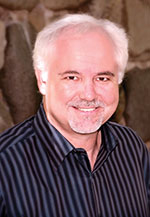 Laton
The National Ground Water Association (NGWA) has announced W. Richard Laton, Ph.D., PG, CHG, CPG, as the recipient of the organization's highest honor, the Ross L. Oliver Award for outstanding contributions to the groundwater industry.
Laton, an associate professor of hydrogeology at California State University, Fullerton, is an active and longstanding member of the NGWA. Laton's career includes work across several sectors of the groundwater industry, including drilling, manufacturing and supply, and engineering. He's also taught hydrogeology for 20 years, bringing real-world problems into college classrooms to help grow the next generation of groundwater leaders.
National Driller talked to Laton to find out more about his career, what the award means to him and the issues he thinks are most important in the industry today.
Q. What does receiving this award mean to you?
A. The [Ross L. Oliver] award was a complete surprise. I don't feel like I'm old enough to receive it in some ways. I've been volunteering and been on committees for decades now, but of course, I get more out than I've ever given back to them.
I'm very honored by NGWA even nominating me. I don't know who nominated me, but I am very thankful for them and thankful for NGWA recognizing my work and everything I've put forward. I'm both honored and humbled.
Q. What's been your biggest contribution to the groundwater industry?
A. I think it's my dedication to trying to protect groundwater and evaluate the resource as a whole. I've been an educator throughout my career, so it's also been trying to educate people about this important resource: how to protect it, how to use it in a meaningful, respectful and sustainable manner.
Q. What impact did you hope to have when you first started your career?
A. Well, as you start off, you just hope you have a job. But I always felt that education was something I wanted to do. I wanted to communicate to others my enthusiasm for groundwater science, hoping that would be contagious to others. So certainly, I felt that was always going to be an avenue that I would take. In the latter years, I've done more consulting as well as teaching, so it's about 50/50 now.
Q. Are there any groundwater issues you think deserve more attention?
A. It depends on where you live. On the West Coast, the drought here forces people to try to utilize the resource without "mining" it, I guess is the right word. But as you move back East, it's more about water quality. As you go overseas, water quality becomes an issue as well.
I think what we're going to see happening in the future, which is exciting, is that we're going to see treatment costs come down as people start realizing we have to reuse water, probably closer to the source than we've been doing. What I mean by that is, you use groundwater for drinking, you treat it and you let the river send it to someone else.
I think we're going to see a lot more water reuse like what [Orange County] is doing. Which is we take our wastewater, retreat it, then instead of sending it to the ocean, we put it back in the aquifer and reutilize it again. It's just a more sustainable approach, and it allows you not to have to steal from Peter to pay Paul in a water resource manner. It keeps us from going to other states or other watersheds or other groundwater basins and trying to take that water out; we can just keep reusing the water over and over again, which is what nature has done forever.
Q. Are contractors worried this trend will impact their business?
A. I talk to a lot of contractors, and suppliers and manufacturers. Suppliers and manufacturers aren't so worried, but the contractors are worried this is going to put them out of business. And it doesn't mean that. They still have to do monitoring. They still have to put injection wells in. They still have to put extraction wells in. It just changes things a little bit.
Is [wastewater reuse] going to happen on a rural farm somewhere? No. But the cities themselves, they're going to have to start looking at this, which means cities that have been on service water are probably going to start migrating towards groundwater, which allows us to do more and more work.
So I think it's a change in our industry, but I don't think it's going to put our industry out of business. I think it's going to increase business. It's going to be a change.
What it really amounts to is this: When I talk to contractors, a lot of their bread and butter up to this point has been putting in residential wells, irrigation wells and essentially smaller diameter stuff. And there are always exceptions to the rule, but it's the bigger guys that put in these big municipal-type wells.
As cities begin to develop these water resources and they start to utilize groundwater, recycling it, they may try to incorporate some of these local residential developments into the city system, which means they're not necessarily going to need those water wells anymore.
Well, in turn, the cities are going to have to expand their water resource to fill these and they're going to have to put in bigger wells or more wells or concentrated wells in an area. And I don't see that the number of holes we're going to drill necessarily goes down, I think it's just the types of them and the sizes of them may change here for a while.
Q. Are there any other cities considering similar projects?
A. California has taken the lead on a lot of this. In Michigan, they're starting to look at whether or not they can recharge water upstream and then take that out as a backup to their existing service water systems. In Atlanta, Ga., there are some rumblings there that they're going to have to start utilizing more groundwater.
What Orange County, L.A. and some other cities along the California coast have done, which is really modeling what Israel and desert countries in the Middle East have done, is trying to use wastewater where they can. Because you're already treating it, so why not reuse that water you've already paid to have treated? 
---
Rachel Beavins Tracy is a freelance writer for National Driller.