The N4 utilizes the Samsung Galaxy Note series system.Two Technologies has launched the N4, an Android tailored for those who work in harsh weather, extreme environments and other grueling conditions.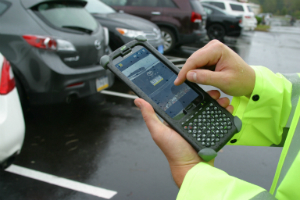 The N4 utilizes the Samsung Galaxy Note series system.
The suburban Philadelphia company says it created the mobile device as an alternative to normal, less durable cellphones.
The N4 has an ultra-rugged polycarbonate shell, is water proof and heat-resistant.Its hot swappable battery means never having to exit an application, reboot, and then re-enter the application to change the battery. It can operate normally in temperatures as low as -4 degrees Fahrenheit (-20 degrees Celsius) and as high as 122 degrees Fahrenheit (50 degrees Celsius), in compliance with the MIL-STD 810F standard, and can be submerged up to one meter while remaining in an application.
"Mobile phones come in all colors, shapes and sizes, but they all have one thing in common – they are unreliable in extreme weather conditions and disposable," says Joan Rickards, executive vice president of sales and marketing at Two Technologies. "This is what sets N4 apart – these are the conditions in which it performs best." 
The N4 utilizes the Samsung Galaxy Note series system, holding true to the frilly features of everyday smartphones too.
"It is already being used by some Public Safety ground operators to collect data, to stay on top of rapid developments in the field and to communicate with other remote responders," says Rickards.
It comes with a 5.5-inch diagonal high resolution 720 X 1280 Super AMOLED display, Android version 4.3 and a 70 key backlit keypad. Other key features include an optional 3 channel magnetic stripe reader and an 8 megapixel color camera.
The internal memory can store up to 16GB of information and additional micro SD memory is available up to 64GB. A drop-in cradle with spare battery charger can be used for desktop or vehicle mounting. The device is IP67 rated and meets or exceeds MIL-STD 810G using methods 516.6 and method 514.6 for both shock and vibration.
The N4 can be ordered with a standard QWERTY keyboard or with application-specific keypad. The N4 is entirely produced in the USA aside from the Samsung device.
 For more information, visit www.2t.com/n4.