If you're a regular reader of this column and you notice the title, you probably think, "Old Schmitt has slipped a cog once again." If you have never read this before, I want to assure you that is not true and there is a method to my seemingly goofy title.
In late February, my wife, Shirley, and I attended the annual Michigan Ground Water Association Convention held at Traverse City. If you know anything about Michigan, you know that Traverse City is about at the tip of your left ring finger if you hold your hand up, palm facing away from you. You know somebody is from Michigan when they hold up their hand and point to a spot on it telling you that is where they are from. Traverse City is in a heavy snow belt just off Lake Michigan, and "yes," we got snow during the convention. Now, I have attended every MGWA convention since 1958. I actually started at the 1952 event and went to each one through 1956 and then missed 1957, as I had a conflict and simply could not make it. Any way you figure it, this adds up to a lot of Michigan conventions.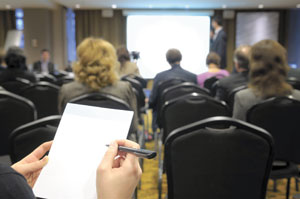 Columnist John Schmitt says the value of going to conventions and conferences is that even a veteran can learn something at each one. Source: iStock
Now, Shirley and I had a good time at this convention. We got to see many old friends—most of whom we see once a year. I went to some seminars and the annual business meeting, and we both went through the exhibits. The ladies group took a trip to a winery and had some food, and Shirley said it was good. We got to go to dinner with two other MGWA past presidents and their wives, and had an enjoyable evening. The hotel part of the host facility, while not perfect, was comfortable and the main restaurant provided good basic food with acceptable service. That's the good part.
The not-so-good part is that this annual event is a mere shadow of what it once was. We had just over 50 booths in the exhibit hall—54 to be exact—and I can remember a convention in Grand Rapids in the 1970s when we had a 110. Likewise, at Lansing, Mich., in the 1980s, we crammed 21 new drill rigs, pump hoists and a few trenchers plus small exhibits into the Lansing Center. This year, we had no drill rigs and no pump hoists. We did have two new trucks, one with a rather interesting flat bed and the other with a small utility body. Shirley said we had some trenchers, but I did not see them. Maybe I missed them. Attendance at this year's seminars was rather weak, although I must admit that I missed the keynote session. Likewise, the annual business meeting attendance was decent, but hardly an overflow crowd. Overall attendance looked to me about 25 percent of what we had in our glory years.
Now, please don't think the foregoing is a criticism of the organizers. I think these fellows and their wives did their very, very best to put on a successful event. It's just not the same as it used to be. I think there are a number of reasons for this, mainly that I don't think we have as many members in our industry as we once did. With modern technology, we can drill the required number of wells with a lot less people running fewer rigs. Likewise, the pumps and tanks we install in 2014 need far less service than the same things in years gone by. Sadly, I also think that the younger drillers are not as interested in attending conventions as their fathers and grandfathers were. This could be caused by the fact that people are just so darn busy and some of those who don't come seem to feel that they can't spare the time away from their business. There are other factors that have caused the decline in attendance, but I will skip those as I have gone long enough on this subject.
Now, with all this information about the 2014 MGWA Convention—the good and the not so good—I've long had the theory that you can't go to a convention, be it state, regional or national, and not make a new friend, see a new product, or learn a new method or technology. You're probably saying, "Can this old dog learn any new tricks?" The answer is yes. At this most recent convention, I had a conversation with another member who described a unique and interesting way to install well screens. You may be saying, "Not more about well screens." Well, not right now. Perhaps in a future column.
I may be like "Marty," the central character in the 1955 movie of the same name. Marty is a butcher, a bachelor who lives with his mother, and is rather quiet and shy around women. But I think deep inside Marty knows he needs a good woman to share his life. As the movie progresses, Marty rescues, in effect, a woman named Clara from a bad date. Clara is played as a rather plain, nice young woman who is a school teacher. They go for coffee and have a long talk. Marty volunteers to take her home, which is a long way from where they are in the New York City area. She accepts, and as they walk along, ride subways and busses, Marty can't seem to stop talking. He even apologizes to Clara a couple times for jabbering on as he admits he just has to talk, talk, talk. As the movie progresses, we can see that Marty and Clara have found "that" person with whom they will be very happy spending the rest of their days together.
So, readers, I must admit I'm a bit like Marty in that I can't seem to stop writing about well screens. This column was going to be about pressure tanks, but that is going to have to wait until I can get Clara home or at least until next time.
I will include my monthly weather report and tell you that we have had an absolutely awful winter here in Michigan. Our total snow fall for this area is within a very few inches of the all-time record set in the winter of 1880-81. Yes, you read right, 1880-81. I think our total is well over 90 inches and the last two winters we had practically no snow at all. Anybody who has kept their driveway or parking area clear has got stacks and stacks of snow, some of which are 30 feet high. Three days ago, we got another 6 inches, but at my place it blew into the driveway 18 inches deep for several hundred feet. And, to top that, as this is written in mid-March, we are still getting single-digit temperatures almost nightly. The unpaved roads are nearly impassable in places with ruts, chuck holes, potholes and shallow trenches where water runs across them. I have been told that some places have 36 inches of frost in the ground, and in others with good snow cover, almost no frost. It has been a winter to forget.
 I promise you that I will get to those pressure tanks and some other subjects and thanks for reading a somewhat unusual column.
 For more John Schmitt columns, visit www.thedriller.com/schmitt.