SJE-Rhombus released its latest product, the EZ Series Plugger Post control panel. The company says the control panel with mounting post provides a "convenient wiring connection" for a single-phase pump in effluent and sewage applications.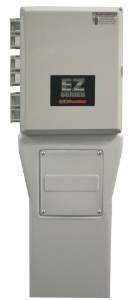 The EZ Series Plugger Post works with either a 120-volt or 240-volt pump. Source: SJE-Rhombus
The EZ Series Plugger Post can be mounted directly in the ground, or on top of a 4-by-4 post or conduit. It features an access door for easy wiring. The NEMA 4x panel includes a receptacle for a 120-volt or 240-volt pump and piggy-back pump switch, as well as an elapsed-time meter. The Plugger Post is UL/cUL listed and includes a five-year limited warranty.
The kit includes:
Tank Alert AB remote alarm
15-foot SJE SignalMaster control switch
34-inch Mounting Post with access door
Simplex installation kit (2-inch hub assembly, 2-inch cord seal to seal 1-4 cables and ¾-inch hub assembly)
Riser mounting kit (2-inch hub assemblies (2), 2-by-6-inch PVC pipe and connecting hardware, and conduit for routing pump and float from tank riser to post.
SJE-Rhombus has more than 35 years of experience providing pump controls for residential, commercial, municipal, industrial and agricultural applications. The Detroit Lakes, Minn.-based company has six locations across the United States and Asia. It's employee owned and privately held. For more information, visit www.sjerhombus.com or www.facebook.com/sjerhombus, or call (888) 342-5753.