Atlas Copco Secoroc says its new T-WiZ 60 drilling system achieves up to 30 percent longer service life, meaning more productivity per shift.
The all new T-WiZ 60 completes the company's T-WiZ range of products. The drill string works with the T-WiZ Speedrods and T-WiZ shank adapters to cut the need for rod changes during underground, surface mine and construction work.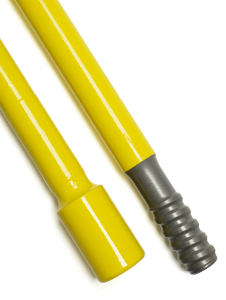 The new T-Wiz 60 fills out Atlas Copco's T-WiZ range of products. Source: Atlas Copco
"There's no better way to work through tough formations and fractured rock," the company said in announcing the T-WiZ 60.
Easier handling and uncoupling allows operators to drill more holes per shift, meaning they can get to blasting more quickly and advance more rapidly. Fewer rod changes also mean a much leaner stock, the company says.
The T-WiZ system comes in four options: the T-WiZ 38, T-WiZ 45, T-WiZ 51 and T-WiZ 60 Speedrods and shank adapters designed for extension or drifting drill strings. The company also offers a range of top hammer bits to match T-WiZ drilling rods, which are designed for easy release and change.
Atlas Copco Secoroc is the rock drilling tools division of Atlas Copco, and is part of the company's Mining and Rock Excavation Technique business area. It manufactures equipment and tools for the mining and construction drilling industry.
Atlas Copco, based in Stockholm, Sweden, serves segments ranging from compressors and air treatment systems to construction, mining and drilling equipment. The company, founded in 1873, has more than 39,800 employees worldwide, and operates in more than 170 countries. Atlas Copco in North America operates in more than 109 locations and employs more than 4,500 people in the United States. For more information, visit www.atlascopco.us.