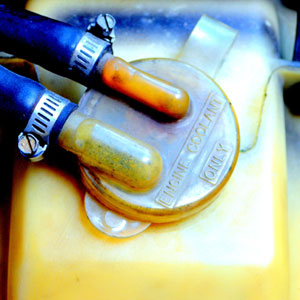 Coolant solutions serve many purposes, including heat transfer and protection against corrosion, scaling and sludging. Source: iStock
Engine coolant is considered any solution that is circulated through the engine to provide a means of heat transfer from various engine components. The function of the coolant is basic to successful engine
operation.
Coolant solutions must meet these basic requirements:
• Provide for adequate heat transfer
• Provide a corrosion resistant environment within the cooling system
• Prevent formation of scale or sludge deposits in the cooling system
• Be compatible with the cooling system hosing and seal material
• Provide adequate freeze protection during cold weather operation
Diesel coolant additive (DCA) and supplemental coolant additive (SCA) are required to prevent premature failure of wet sleeve cylinders in diesel engines. Lack of additive in the coolant will cause corrosion and implosion in the cylinder liner, which eventually causes liner pitting and serious engine damage.
A 50/50 mix of water and glycol-based coolant is a proper mix of coolant for diesel engines. For corrosion inhibitors, DCA must be added to the mix and blended prior to installation in the cooling system. The minimum/maximum requirement for DCA is 1.2 - 3.0 units per gallon of mix. This level should be checked and adjusted at engine oil change intervals. Coolant condition test kits are available through Schramm (reference part #3030-0496).
Currently, the Schramm factory fills all drill rigs with an extended life coolant/antifreeze in their cooling systems. The ELC is already pre-mixed with all of the necessary additives to prevent corrosion and pitting, even in operation temperatures as low as -34 degrees Fahrenheit.
The ELC is advertised to have a 10,000-hour life expectancy with the requirement to add ELC extender at 5,000 hours. These cooling systems should only be replenished with a compatible ELC product. Mixing ELC with 15 percent or more of water or conventional coolants will reduce the effectiveness and life of the coolant.
For additional service questions or to speak with a service technician, call 610-696-2500 or email service@schramminc.com.