Keller Canada, formerly the piling division of North American Construction Group, announced that in the most recent six months the company had no lost-time injuries while still logging 800,000 hours worked.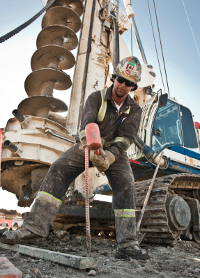 Keller Canada has won several multimillion-dollar contracts since joining Keller Group in summer 2013. Source: Keller Canada
The company says it had a strong safety record before the acquisition, but it adopted the Keller Safety Framework after coming under the umbrella of the international construction and civil engineering company last summer,
"We were acquired by the Keller Group because we are a leader in piling," said Bernie Robert, Keller Canada president. "Our team has more than 30 years of experience in a variety of climates and soil conditions across Canada, and we have a full range of piling technologies. Now we are connected internationally and will continue to be at the forefront of the industry."
At the same time it's achieved high marks for safety, Keller Canada has secured several multimillion-dollar contracts. Those contracts include:
A $4.5 million contract to install and load test driven steel pipe for Suncor's Fort Hills oil sands project in Alberta, Canada.
Approximately $8 million in contracts contract to supply and install pilings for the upcoming Skytrain line in Port Moody and Coquitlam, British Colombia, Canada.
An approximately $7 million contract to install helical piles for 30 new bridges and socketed caissons for 10 other bridges for the 407 Toll Highway expansion in Whitby, Ontario, Canada.
And a roughly $4.5 million contract for installation of continuous flight auger piles for three structures at the High Prairie Health Complex in High Prairie, Alberta, Canada.
Keller Canada specializes in projects related to oil sands and petrochemical and refinery complexes, but also works on commercial and public infrastructure projects. The company prides itself on a diverse equipment fleet allowing it to handle piling projects of any size. It has seven offices across Canada and is ISO 9001-2008 certified.
Keller Group offers the construction and civil engineering sectors a variety of ground engineering services. It has more than $2 billion in annual revenue and about 7,000 employees worldwide. For more information about Keller Group, visit www.keller.co.uk.