Happy New Year! Another year has ended and a new year begins. What a great time to take a look at your life and take an inventory of things that are important to you and your family, and your business or occupation. What will your goals be this year?
Whether you are a new business owner or have been in business for generations, during these times of great innovation and technological changes, it can be hard to keep up your competitive edge. As we begin the New Year, it is always a good idea to take a look at what you can do to take your business or career to the next level. Setting high-level goals and then defining the steps you will need to take to achieve them is important—not only at this time of year, but also when you are faced with challenges in business or in life.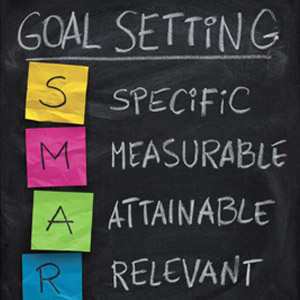 The dawn of the New Year offers a great opportunity to set goals, but follow-through depends on being realistic and setting a deadline. Source: iStock
Where do you start? Take a look at your business and/or career and attempt to identify areas in which you can improve. Once these areas are defined, think about how you will achieve improvement in them. One way to develop a plan is to take each area that you defined as an area in which you would like to improve and create a SMART goal. Every year, when my coworkers and I are evaluated, we must create a personal goal plan that includes four to six SMART goals for the year by Jan. 31. The goals must meet the SMART goal definition listed below. If a goal does not meet these criteria, then it is back to the chalkboard.
Let's take a drilling company business owner for example. A drilling company business owner has been in business for many years. He has established a great reputation in a service area and claims a good amount of the market based on word-of-mouth opportunities. This business owner has had the good intention of creating a basic company website for years, but other things have always come first. Now, he has found that in order to increase his business, he needs one! 
An example of a SMART goal for this drilling company business owner would be: To hire a company to create and complete a company website by June 2014.
This is a SMART goal because it meets the simple criteria defined in the image. It is a SMART goal because it is:
• Specific: It is specific. It clearly defines the goal that the business owner wants to achieve.
• Measurable: It is measureable. The goal must be completed to count as measurable.
• Attainable: It is attainable. In this day and age, there are many ways to create a simple website.
• Relevant: It is as relevant as it gets! It's a no brainer!
• Time-Bound: It is time-bound. The website must be completed by June 2014.
Another example would be an employee goal. A SMART goal could be related to continuing education. Regardless of what drilling market you work in, there are many continuing education opportunities. Many, if not all, state associations, drilling market associations, and national and international associations offer education opportunities, either in person or online. Most of the events are posted on their websites. Another way to gain some new knowledge is contact a manufacturer of the products that you use every day. The company I work for is always more than happy to share our product knowledge and to also learn from the people in our industry as well.
 What will you do in 2014? Will you let it pass by without putting a goal plan in action? Or will you take a look at your life and career and tackle those items that you have been putting on the back burner? Take a look at your life and career, and make a plan and execute it! You will be glad you did. Good luck in 2014 and beyond.