Recently, I went to a jobsite in the mountains to watch the drilling of a new well. Upon arriving, I saw some drilling equipment that I didn't recognize. The drill was very large with capabilities of down-hole hammer, core drilling, large boring and a backhoe all mounted on a large truck. The support truck had a water tank, concrete casing and a backhoe attachment.
They set the drill up and hammer-drilled a 48-inch hole through some hard broken rock, then converted to a 48-inch core drill and cored about a foot of hard sandstone. Once this was done, they converted to a 48-inch auger bucket and drilled several feet of hard clay.
When they cored the sandstone and removed it, it had a somewhat clear design of a large sailing ship on the face. They removed the core for the customer to keep. Then they augured the hard clay, which must have been for water storage.
Once all the drilling, coring and augering was complete they installed a large cement casing (liner) in the hole and placed a large cement cap on the top with a 6-inch steel casing reaching to above the surface. They gravel packed around the concrete casing and covered the concrete cap and the rest of the hole with grout. Then they covered the rest with topsoil.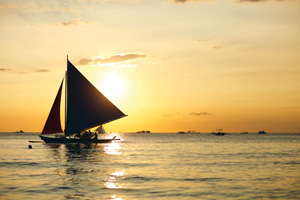 Ever seen the image of a sailboat in a sandstone core? If not, maybe Porky can offer some tips on how to make your dreams more vivid. Source: iStock
They installed a submersible pump through the 6-inch casing with a well seal.
I was somewhat confused about this type of well so once the driller was free I introduced myself to him and he knew me because he asked, "Where's Piglet?" I advised him that Piglet was around somewhere.
We discussed the drilling of the well for a time and just before I asked his name and the name of his company … I woke up!
 Well drilling has been my life, and sometimes I even dream about drilling. My dreams don't always make sense. Then again, I often solve my drilling and other problems when the solutions come to me after a night's sleep!