Minnich Manufacturing now offers a full line of machine-mounted drills for dowel-pin applications. The company says the products have "a number of features engineered to increase safety and productivity."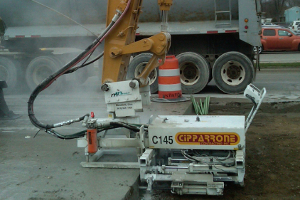 Minnich says its machine-mounted dowel-pin drill "drastically decreases the risk of jobsite injuries." Source: Minnich Manufacturing
Units come in hydraulic and pneumatic options, with excavator, backhoe and skid-steer mounted models available. The drills are designed for horizontal "patchwork" projects. Minnich says the increased portability of its machine-mounted models also boosts safety by cutting operator fatigue from transporting drill.
"Increased portability simply means that the contractor will get the job done faster," said Todd Jurjevic, sales and marketing director for Minnich. "Additionally, eliminating the need for an additional operator on the ground to move the unit from one section to another drastically decreases the risk of jobsite injuries."
The pneumatic models are powered by a compressor either mounted to the counter-weight of the carrier or in the bucket of a backhoe. This setup, Minnich says, makes for a "highly mobile carrier and drill combination" that minimizes downtime on the project site.
"Not only do machine-mounted drills save time on patchwork jobs, but we have engineered a number of cost saving features into every drill," says Jurjevic. "Features like 330-degree drill bed rotation for increased accuracy, the handy side-shift function to allow the operator to drill a second set of holes without having to reposition the carrier, and the dust collection system to reduce debris on the site all add up to a more productive and safer user experience."
All units—hydraulic or pneumatic—are available with wireless controls and come in a variety of sizes and operating weights. Click here to see a video of the mounted drills in action, complete with remote operation.
Minnich offers dowel-pin drills, concrete paving vibrators, vibrator monitoring systems and custom drills for special applications to concrete and utility contractors. The company, based in Mansfield, Ohio, was established in 1968. For more information, visit www.minnich-mfg.com.