Westlake Pipe & Fittings knows how important it is to water well professionals to maximize time and efficiency on jobsites and is committed to investing in new technologies to improve the well installation process. As project conditions can change instantly, the faster the pipe is installed, the safer and more efficient it is for the driller. 

40% Faster, 100% Strength 
Certa-Lok CLIC is an all-in-one well casing design that comes together in a click, allowing for 40% faster assembly than traditional well casing. It is available in nominal sizes 4"-12", and the product's groundbreaking spline ring helps ensure spline grooves are aligned correctly without the risk of over-insertion.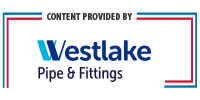 Assembling Certa-Lok CLIC is fast and straightforward. To assemble, slide the spigot into the bell, listen for the click, and move on to the next connection. The joint instantly achieves 100% strength upon connection with no drying or cooling time.
Joining the product and having full strength in a click is not the only benefit of Certa-Lok CLIC. It's significantly less complex thanks to the patented, all-in-one spline ring design, eliminating the need for solvent cement or welding, and a contractor can install it in any weather.  
Unlike welded or cemented pipe, it's simple to disassemble and reassemble. Remove the load, pinch the spline tabs, and lift the spigot from the bell. The spline ring can also easily be disassembled and replaced if needed.    

Case Study Proves a Hot Point 
Keeping track of splines on jobsites that use more traditional methods can be difficult as they can be misplaced easily or lost down the drilling hole. Insertion requires more steps & effort with a large pipe that involves a hammer. Certa-Lok CLIC combats these issues in the Bandera, Texas, project. 
For this specific project, Certa-Lok CLIC was the best product for drilling fresh water access for the wild game on the property. It was quick to put together in the Texas heat so the crew could get in and out, all while being effective for the job. 
"Today we tried some of the new Certa-Lok CLIC (Well) Casing. It went really, really well," Reed Scubby, Waterboyz Water Well Drilling of Bandera, TX, said. "Very quick, no need to drive a straw (spline) into it. Just slap it together and go."  
Due to the increased speed of assembly, pre-installed spline ring, increased tensile strength, and the ease of disassembling and reassembling the casing section, Certa-Lok CLIC helped the drilling team save time and increase efficiency for this project. 

Certa-Lok CLIC Well Casing Is Safer & Faster 
Certa-Lok CLIC is not only impacting projects like the one in Bandera, Texas. It's creating change across the water well industry.  
For the installer, Certa-Lok CLIC offers safer and faster well casing assembly. Unlike welding, there is no need for sparks, heat, or setting time. Certa-Lok CLIC can also be assembled in any weather. Additionally, increasing the speed of a project may reduce the potential for dangerous project conditions such as wellbore collapse. 
In recognition of its revolutionary design, The National Ground Water Association presented Westlake Pipe & Fittings with the "Excellence for Equipment Design Award" in 2021 to recognize the engineering advancement of Certa-Lok CLIC.  

Connecting in a Click 
With its easy assembly and simple design, Certa-Lok CLIC is innovating the water well industry one click at a time. Certa-Lok CLIC is the quickest casing to assemble on the market and can make jobs faster and increase future productivity.  
Communicate with a sales representative today and learn more about Certa-Lok CLIC PVC Well Casing: www.westlakepipe.com/contact.