Reliable equipment and employees provide the roots required for building a multi-generational drilling business. Sticking to standard maintenance schedules reduces downtimes while increasing profits. Keeping equipment regularly maintained to ensure ease and efficiency of operation also influences employee retention — especially if they're not the ones doing the service work.
"If we're not wrenching on rigs, we're drilling, which is more profitable," said Chad Kraai, owner, Kraai Well Drilling in Michigan. "It also improves driller retention, as they would rather drill than wrench."
Finding a place in your region to service your rig contributes to overall business health, keeping customer satisfaction, company profits and employee spirits high. Coming to depend on a rig service center requires service technician expertise, specialty tooling and parts inventory for your rig. Drillers across the country rely on the three Geoprobe®/DRILLMAX® service centers located in Pennsylvania, Florida and Kansas to keep their rigs operational and their employees happy. For some, this means complete rig overhauls. Others seek specific service repairs, while others select something in between.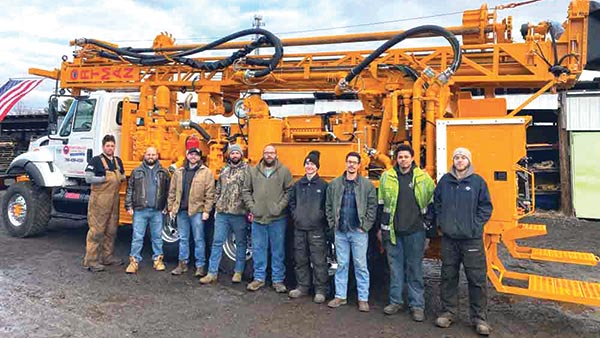 East coast service center – Oxford, Pennsylvania
Mark Ortman, co-owner of Ortman Drilling & Water Services, Indiana, discussed with Dillon Sickler, East Coast Service Center in Pennsylvania, what to do with his company's 2005 Schramm T450M mud rotary rig with just under 15,000 hours on it. They ultimately chose a rig refurbish. Now, with the rig back to factory specification, Ortman's team quickly noticed how the rig felt tighter.
"You get a 15-year-old rig with 15,000 hours on it, and everything starts to get sloppy on you — even when you stay up on your maintenance," Ortman said. "They knew exactly where some issues had been problems the last 10 to 15 years; they resolved a lot of those issues too during the refurb. While they had stuff torn apart, they stiffened it up where it needed to be."
The ECSC stiffened the rig frame where the cylinders that raise the mast arm attach. In addition, they made it so the rotary table hydraulicly opens to remove and install slips rather than having to manually open the table.
Ortman, who believes Schramm builds one of the toughest rig frames in the industry, says the refurbished rig is essentially a new rig.
"We got 15 years out of it the first time," he said. "You might not get 15 more years, but you should probably get 10 to 12 years."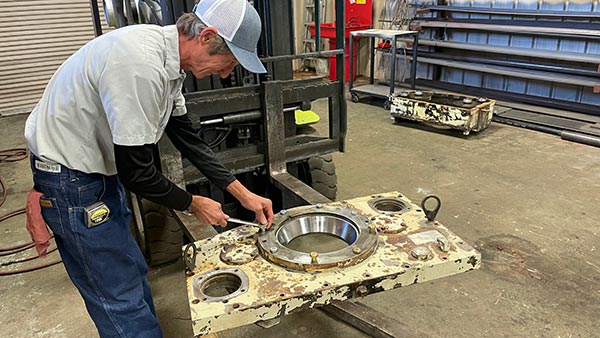 Southeast service center – Ocala, Florida
 With roots in the drilling industry back to his grandfather in South Carolina, Kenny Baker, owner, Kenny Baker Well Drilling LLC in Florida, relies on his fleet of DRILLMAX® rigs to get the job done.
"I'm 60-years-old, so I don't drill anymore. My sons do the domestic and center pivot wells," Baker said. "We do 60 wells a month and are 200 wells behind. Lehigh is 10 square miles of nothing but wells.
According to Baker, people are moving to the area from far and wide with homes sold within days of going on the market. Baker has come to rely on the Geoprobe®/DRILLMAX® Southeast Service Center for keeping his rigs operational whether it's routine maintenance or more extensive service.
"Anytime I need anything, I give Todd Ewing a call. If I need a top head completely rebuilt, I just give them a call," Baker said. "With as many wells as we're drilling, we don't have time to be down, so it's important to get parts quickly and get it fixed. We lose $10,000 a day if we're down. I'm really happy with the service."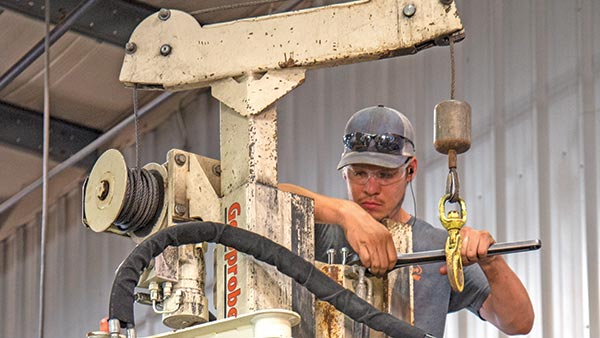 Factory service center – Salina, Kansas
Cisco Geotechnical in Connecticut has a fleet of probes from as small as a 54LT all the way up to the 3230DT rigs.
"From time-to-time the rigs start to get a little tired and lose some of the reliability they had when brand new. That is when we know its time to send them back home to Salina for a refresh," Dirk Berry, owner, said. "The rigs are all maintained regularly but still have a tough life probing in New England. The glacial till geology in Connecticut creates quite a challenge for the probes with a mix of everything from sand and gravel to monster boulders all on the same site."
If the probe has relatively low engine hours, it is usually a candidate for a Repair and Paint. Cisco Geotechnical recently had a 2011 version one 7822DT go through the process and the operators are thrilled with the outcome.
"No more phone calls to customer service due to gremlins. The machine looks and performs like it did when new," Berry said.
The Repair and Paint includes new paint, new wiring harnesses, new slides and hoses, switches, worn valves and decals replaced. The machine is gone through from top to bottom. The Repair and Paint has a green approach as well. 
"Refreshing an older machine can save on natural resources that would have gone into producing a brand-new unit," Berry said. "We reduced our environmental impact and saved a few greenbacks."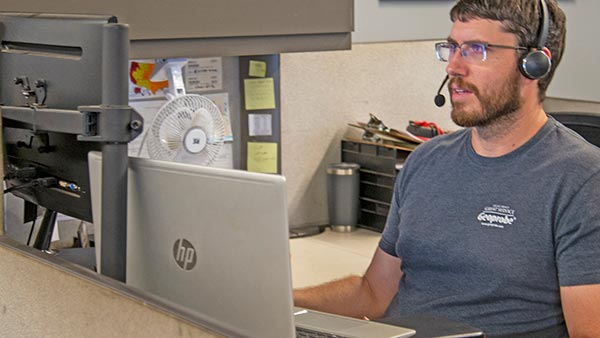 Providing top customer service
With the goal of being an asset to customers, these three Geoprobe®/DRILLMAX® rig service centers provide phone support and troubleshooting focused on equipping drillers to help themselves with general service and maintenance. Additionally, a customer portal – Centerpoint Connected – contains details drillers desire to curb operation costs and simplify day-in, day-out tasks. Machine records and service notes are readily available with ability for users to add their own regular maintenance records. Service order tracking is also just a click away. Just a few more ways these three Geoprobe®/DRILLMAX® service centers partner with customers to help build a lasting drilling business.